If you're in the construction business — from residential to commercial and new builds to remodeling — managing large or small projects, you need to provide your customers with a project estimate before starting work. It's a critical component to forecast expenses and manage profitability. An accurate estimate also plays a crucial role in winning business.  
What is estimating in construction?
Estimating is the process of determining the total expense per the construction project, and it can be as straightforward or as complex as the project requires. To be successful as a builder or remodeler, estimates need to be both highly accurate and delivered to the customer in a short time frame. Speed, accuracy, and efficiency is oftentimes a reflection on your business and can weigh on the customer's decision process. There are different types of construction estimates, and it all depends on the scope of a particular project. 
A rough definition of estimating is judging something for its worth. In construction terms, estimating judges the costs (and there are many to consider) for a particular project with many decisions between the start and end of construction. 
While there are different types of estimating systems, a builder or remodeler will generally rely on the following process to complete an estimate: 
1. Scopes of work
Defining the construction project. It may come from various sources like architects or engineers, walking or touring the job site, or talking to the customer. 
2. Takeoffs
Sometimes called quantifying the project or converting the scope to quantities.
3. Estimating Process
Unit prices and mark up for materials labor applied.
The purpose of cost estimating in construction
Cost estimates protect the builder or remodeler and help manage their business. It also ensures the customer is not overpaying for a project and knows what to expect from a cost standpoint. There are a variety of direct and indirect costs associated with a construction project of any size. 
Direct costs


Linked to the physical part of the construction project and include material, labor – your staff and subcontractors – and any necessary equipment rentals.

Indirect costs


General overhead costs such as insurance, professional services, temporary job facilities, and contingencies.
Cost estimates are a vital tool for managing the project's performance against direct and indirect costs and using it as a template for similar projects. The more estimates you create, the faster and easier it will become.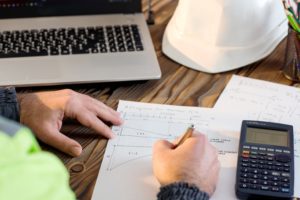 What is estimating software?
In general, estimating software automates the formulas you use manually or on a spreadsheet into a streamlined online process. It offers reliability, accuracy, accessibility, and efficiency.  
Most small builders or remodelers create their estimates and don't have professional estimating staff. It is a rote process and is completed manually, with spreadsheets like Excel, while some will use a specialist software platform. Moving your business to a software platform isn't complicated and you'll be wondering why you didn't do it sooner. 
The benefits of using estimating software.
Today's construction-focused software solutions offer more than estimating since the estimate is intrinsically linked to the project; the work schedule, purchasing, subcontractor bids, customer invoicing, and reconciliation with accounts.   
Most estimating software solutions help you do your job better by allowing the user to: 
Prepare custom templates for letterhead, proposals, and reports

 

Create estimates from takeoffs

 

Track costs and 

 

Integrate with accounting software

 
Modern software is cloud–based, which offers a range of benefits to builders and remodelers. Access from anywhere, on the road or at the office, month by month subscriptions rather than big upfront investments, and the ability to easily include staff and subcontractors in bidding workflow. In today's climate and remote work environment, moving your business to a cloud-based software solution will help you be more responsive and efficient with new opportunities so that you can win more business. It also helps you meet or exceed your customers' expectations with faster, more accurate estimating. 
The Buildxact advantage
There are several estimating software systems on the market today, and many specific to the residential construction industry like Buildxact. Designed for the small builder, remodeler, and contractor, Buildxact offers an easy-to-use construction estimating software, as an integral part of an affordable construction management platform. 
You can create accurate estimates in a fraction of the time with complete on-screen takeoffs using your own supplier price files, which can be easily uploaded from Excel. You can create a professional-looking quote, including specifications and images, with just a few clicks. Need to make a change? Copy the estimate, rename it, and make your changes. Our system allows you to modify and save multiple versions of estimates for a single job. 
You can also store customer information and documents like permits, quotes from subcontractors, material items (like that modern sink your customer sent) along with photos you take onsite, and easily send them along to your customer. 
To learn more about how our software can help you be more efficient and accurate in your business, book a personalized one-on-one demo today or try our 14-day no-obligation free trial.