For many, 2021 was more difficult than 2020. In 2021, the COVID-19 pandemic was a constant reminder that we were not in control, and the world — including our own personal world — became smaller, altered and uncertain. And the theme continues as we head into 2022, having borne the brunt of a new, more contagious virus variant that wreaked havoc on holiday travel plans and once again threatens the economy.
The economy and the virus variant(s)
According to the Bureau of Economic Analytics, the gross domestic product (GDP) in Q3 increased 2.3 percent, less than growth in the second-quarter report. There was a decrease from private goods-producing industries, led by the construction industry, and an increase in government spending (state/local). Forecaster's project annual growth for 2021 to come in around 5.6 percent year-over-year (YOY) and 3.5 percent YOY in 2022.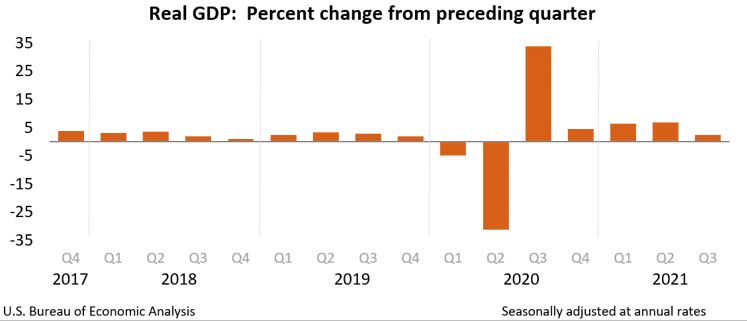 The job growth report increased modestly in November 2021, and the unemployment rate fell to 4.2 percent YOY. However, there is still a labor shortage and the total number of jobs — about 4 million — is below the pre-pandemic levels. While most are still delaying a return to the labor market due to fear of the COVID-19 pandemic, some Americans also have become more selective about where they work.
Workers have the power to be selective as evidenced by record-breaking quitting rates (The Great Resignation) coupled with a smaller pool of talent and by big companies offering signing bonuses — from McDonald's, Taco Bell, and Chipotle.
Amid these macro trends, custom builders in the residential construction industry find it tough to compete when a large part of their business relies on migrant laborers who may not make it to the U.S. or may take a higher-paying job if they do.
Because of the labor shortages and high turnover in the service and travel industries, employers feel wage pressures as they continue to struggle to hire. More consumer buying power and demand from higher wages, coupled with ongoing supply chain disruptions, have economic forecasters talking around a wage-price spiral, the back-and-forth relationship of prices and wages. This effect drives inflation, which rose quickly to a 31-year high in the U.S. in 2021 — one of the largest increases in the world — and climbed as high as 6.2 percent in October. The number will be expected to moderate into 2022 to around 3 percent.
As we close 2021 and head into the third pandemic year, it is unclear how the Omicron variant will affect the economy moving into 2022. Some predict a dip in the first part of 2022, prompting a GDP downgrade in the first quarter.
Residential building industry
The residential building industry saw shortages in the number of available lots in the third quarter of 2021, and the industry will continue to see home prices increase nearly 20 percent by the end of the year. Demand continues to be high, even as homebuilder sentiment remains positive. Three things that will continue to plague the industry include labor shortages, supply shortages, higher material costs, and housing affordability.
Labor Shortages: In January 2021, builders reported a 40 percent labor shortage, and today that has doubled to 80 percent, according to Zonda data. There are more than 400,000 unfilled construction jobs in the U.S., the highest measure since keeping track in the early 2000s.
The lack of labor affects housing inventory and affordability. According to HBI president and CEO Ed Brady, the industry labor shortage "…has reached crisis level." And "…the industry needs more than 61,000 new hires every month if we are to keep up with both industry growth and the loss of workers through retirement or simply leaving for good."
Supply chain and material shortage
Supply chain issues and material shortages will continue to be a headline well into 2022. The construction industry had to pivot and do things differently because of material shortages, which takes great coordination and ongoing communications between builders and suppliers.
It may also mean being open to alternative products or substituting products, and shopping around rather than relying on one source. Many in the industry, like dealers, have taken the time to review their product stocking strategies for the long-term, whether that means reducing SKUs or removing items that didn't necessarily sell well.
Housing affordability
The housing sales haven't quite peaked yet, and 2021 will finish strong with 12 percent sales growth, as reported by Zonda. As interest rates increase are likely to increase in 2022, mortgage rate urgency has returned, and rates will likely go up to 3.5 percent in 2022 and continue to be choppy.
Home prices are up nearly 20 percent, and 28 percent of the starts are among the top 25 markets. Why? The large and growing population is moving to more desirable places.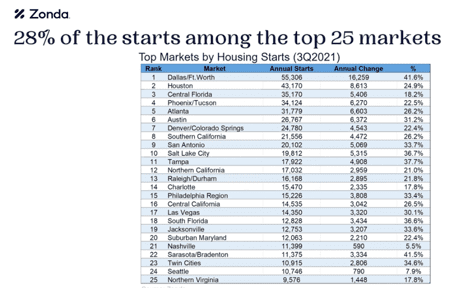 The south, or sunbelt areas of the U.S., continue to be an attractive place to live because of the relative affordability and lower tax rates — warmth — and great employment opportunities, primarily in tech. It used to be that employees would follow where the tech companies set up shop.
But those same tech companies, today, are setting up satellite offices in places where people are moving. These markets can support the higher home prices yet are still relatively affordable. About 40 percent of move-ins were outside the MSA (Metropolitan Statistical Area) versus 23 percent in 2020. People across the nation also are moving back to the big cities where vaccination rates are high.

Today's rental market is red hot, something we haven't seen since the 1990s. The cause of the hot rental market? Not enough inventory in the market and people decided to stay put. It takes longer to build homes due to labor and material shortages and higher wages and prices. It has caused a pause for a renter to buy. Rent rates have grown, forcing people to weigh their decisions of where to go.