Getting home construction jobs done on time and under budget is increasingly challenging in today's economy. The waning concerns about COVID-19, resulting supply shortages, and the more recent war in Ukraine have brought rising material costs and labor shortages that builders and contractors continue to feel throughout the building industry.
Whether dealing with external issues from world events, or from the everyday concerns that come with helping your pro builders finish projects on time and on budget, there are ways to work with your builders more collaboratively to navigate the changing landscape of construction.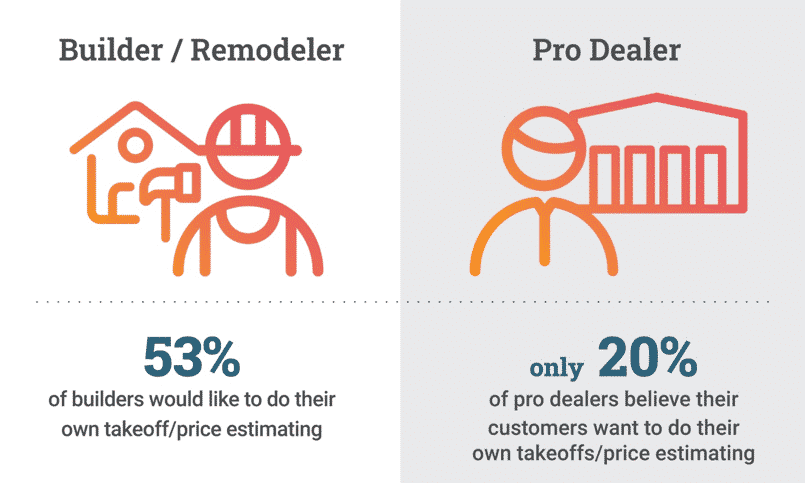 What the industry data says
If you find yourself wondering how to best help your builder while also nailing your own sales strategy, there's something you should consider.
Research from Buildxact and the Farnsworth Group found that 53% of builders and remodelers say they are open to doing their own preconstruction tasks, such as takeoffs and estimates, when preparing bids for homeowners. However, that same research also says only 20% of dealers think builders want to do their own takeoffs, with outside sales representatives doing a whopping 45% of their builder's takeoffs.
Imagine if you aligned those data points. Imagine if you had valuable time free from performing what could be a self-service function. Imagine having more time to find new customers.
The good news is that building material dealers and builders are increasingly using newer, cloud-based software as a simple and straightforward way to realign how they manage takeoffs, and that results in a better managed business that increases customer collaboration and satisfaction.
The benefits of an end-to-end SaaS-enabled platform
Fortunately, you can easily access a new generation of cloud-based construction management software via monthly Software-as-a-Service (SaaS) subscriptions. Today, essential SaaS products offer end-to-end, all-in-one solutions that assist with customer management, estimation, takeoffs, scheduling, invoicing, etc.‑
SaaS tools increase task completion
Using collaborative SaaS tools increases the speed at which the above tasks can be completed and enables your entire sales team to better predict future costs and profitability, which are a vital need in today's inflationary economy. Software and technological innovation help you understand your builder's profitability at the beginning of a project.
Imagine helping your builder calculate and include the correct markup and profit margin into their cost estimates rather than just helping them process orders. Now, that's a higher level of service that puts you ahead of the others selling building materials.
Accuracy also improves with repeatable SaaS workflows
SaaS tools also bring greater accuracy and speed because they offer digital takeoff features that speed up the work while generating complete material lists. These material lists allow you to include item assemblies for common residential tasks, like door installations, to ensure orders are complete when material prices frequently rise. It also gives you the opportunity to grow by achieving higher sales volumes.
Properly designed SaaS gives you access to an online platform where your builders can give you more organized and accurate information when sending their quotes for building materials. You can respond more quickly by offering digital pricing information integrated into their online workflow. As a result, you both collaborate to increase the response time to the homeowner with a professional, well-documented bid.
SaaS brings an entire platform of management tools
Another advantage is that Saas-enabled digital platforms provide other end-to-end construction management solutions, like scheduling and invoicing, and these tools connect you to the builder 24/7. The ability to immediately communicate in real-time is a far superior business practice to the traditional sending of paper or PDF documents back-and-forth by mail or email.
As a result, the digital platform connects you to the builder in a single network of frictionless collaborations that generate robust data critical to financial planning, customer service, sales operations, inventory control and more.
Digital client portals make business transactions easier
Your builders can plan and organize projects around homeowner contacts and prospects stored online by using a digital platform. Project estimates are built in minutes using digital takeoff and material estimation tools that generate online quotes faster than outdated manual methods. The quotes are made available via client portals. The portal allows homeowners to digitally accept high-quality, highly accurate quotes that generate a profit for you and your builders.  
Improve service with updated construction materials pricing available 24/7
When you store and share price information through the digital platform, this pricing integration allows you to give your builders access to up-to-date pricing and materials information whenever needed from anywhere with an internet connection. Pricing integration will enable builders to accurately self-quote materials at a time most convenient to them and creates a high level of service that builds loyalty among your customers.
Integrated pricing saves time on pricing conversations, which is critical when considering that the Buildxact/Farnsworth research shows the typical builder spends up to four hours generating a customer bid and sends up to six emails to you just to discuss pricing.
Dispensing with all this back-and-forth gives you more time to cross-sell different materials or educate your customer on better-suited materials. These conversations also help to reduce waste and prevent unwanted leftover building materials.
And that's not all. On the digital platform, online scheduling benefits both you and the builder. You can use the schedules shared by builders to set up delivery prompts to ensure materials are on a job site at the right time.
Buildxact/Farnsworth research shows that late material deliveries can cost builders up to $5,000 for the average project; so coordinating with an online platform leads to considerable cost savings for your customers and increased loyalty to you.
How to learn more
It's easy to learn more about how working on a digital platform can help your business. Try Buildxact at no cost to you. Start a free account today to see how Buildxact can improve your builder relationships and help you get the job done.